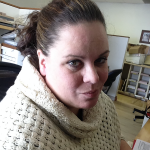 Join us in welcoming Amanda Kratz to Aacer Flooring! Amanda joins us as Customer Service Rep and Lead Generation Specialist.
Her lead generation duties will include researching and tracking hardwood and synthetic flooring projects in the Dodge network, as well as assuring specification.   Her legwork, in conjunction with actively communicating with our certified Aacer Dealers, will ensure that upcoming projects stay in the forefront.  By having Amanda on board, we hope to increase Aacer's spec ratio and free up time for our Dealers to spend on sales and installations.
Amanda will also be assisting with Customer Service responsibilities.   She will be first point of contact for general inquiries related to pricing, products and scheduling.
We think you'll enjoy working with Amanda. Her energy, attention to detail and quick wit make her a great asset to our team.
To introduce yourself, contact Amanda at Amandak@aacerflooring.com or 715-582-1229.