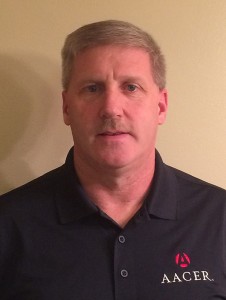 (September 29, 2015, Peshtigo, WI) Aacer Flooring, a manufacturer of true northern solid hardwood flooring, is pleased to announce that Mark Fisher has joined their staff as Prefinished Supervisor. He will be responsible for the management and operations of Aacer's new prefinished line.
"I'm pleased to welcome Mark Fisher to the Aacer team. Boasting an impressive track record in the finishing area, Fisher's 30+ years of work experience as well as his familiarity with the coating line will expedite our learning curve and allow us to get product to market quicker. Fisher is key to the success of our project." said Ray Webb, General Manager of Aacer Flooring.
Aacer is in the midst of installing a prefinished line at their Peshtigo, WI facility. The line will increase Aacer's footprint from 300,000 square feet to 315,000. Prefinished material trials are expected to start as early as October 2015.
Fisher is married and has two children. In his free time, he enjoys hunting, fishing and waterskiing with his family 'up north'. He can be reached at markf@aacerflooring.com or 715-582-1273.